Choose Madden 18 Skill Levels Between Three Playstyles
MaddenStore
Date: Oct/27/17 11:22:31
Views: 2794
EA Sports has brought Madden 18 to the next level of gaming graphics by jumping to the Frostbite Engine. Stadiums, lighting, the crowds and players look photorealistic and it really brings this Madden to a new era.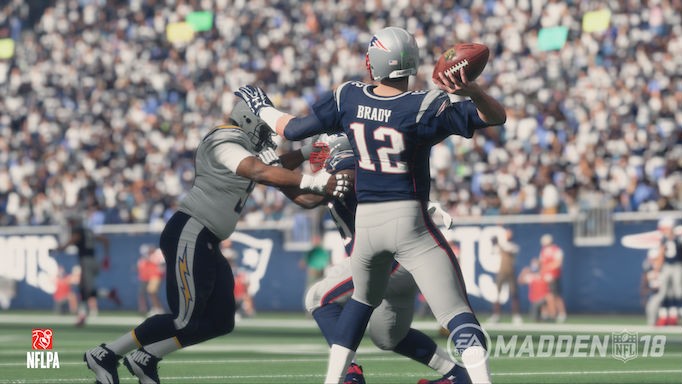 One of new features in Madden 18 is Skill Levels that you choose at the start of the game. There are three different levels to choose from: Arcade, which limits the amount of flags and allows for easy scoring. Simulation, which is the normal Madden experience and closest to an actual NFL game. And there's Competitive, which is for advanced Madden players and where hit sticks matter.
These levels can be changed in the Settings and while many will simply choose the normal Madden experience, it's great that EA is keeping the newcomers in mind so they can play a casual game of football without having to have years of gameplay experience behind it.
Basic gameplay has actually been tweaked more than usual this year with the addition of new playstyles and target passing. When players first boot up Madden NFL 18, they can choose between three playstyles: Simulation, Arcade, and Competitive. Simulation plays like what one would associate with a typical Madden game, with more realistic play results, injuries, and penalties. If you want a more traditional Madden experience, it is best to stick to this mode.
Arcade, on the other hand, is more crazy in what it allows. Arcade matches typically include more fumbles, interceptions, and risky play calls. Competitive channels how people play in Madden's competitive scene, so in addition to rewarding players for taking advantage of some of the game's more advanced mechanics, there are limited penalties and no injuries. This style felt a bit too similar to Simulation, but those swept up by competitive Madden will appropriate being able to practice with similar gameplay in Franchise mode.
Franchise mode functions almost exactly same as in Madden NFL 18, but that didn't make beating the Patriots in the Super Bowl as the Bears any less fun, and this entry has more than enough new modes and features to make up for it.
Madden NFL 18 brings its share of innovations to the long-running football game franchise. By the way, gamers can buy madden 18 coins online to make a finely personalized Madden team.