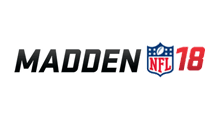 Madden NFL 18
Madden NFL 18 is an American football sports video game based on the National Football League, developed and published by EA Sports for PlayStation 4 and Xbox One. The 29th installment of the Madden NFL series, the game features New England Patriots quarterback Tom Brady on the cover, the second straight year a Patriots player has had the distinction, following tight end Rob Gronkowski.
It was released worldwide on August 25, 2017, although those who pre-ordered the "G.O.A.T. Edition" were able to play it three days earlier and access their copy on August 22, 2017. It is the first game of the series since Madden NFL 2005 not to be released on both PlayStation 3 and Xbox 360, and also the first game in the main series to be available on only two platforms since Madden NFL '94.
Madden 18 Rating from Gamespot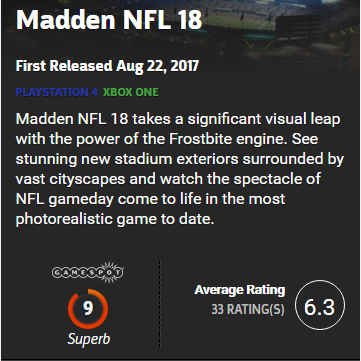 Madden 18 Rating from IGN

Madden 18 Rating from Metacritic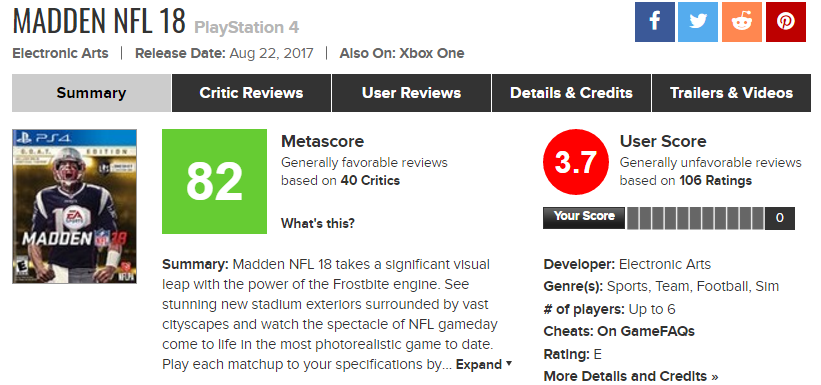 Longshot story mode - Guide forgotten prospect Devin Wade on his journey to the NFL draft in Madden's first-ever cinematic and playable story mode.
MUT squads - Online team play is back with Madden Ultimate Team. Team up with your friends and build your dream team of past and present players.
All-new Target Passing - Target Passing gives you total control over where the ball is thrown—no more being tied to the open receiver. Pass to whoever, wherever.
Madden 18 Features: https://www.easports.com/madden-nfl/madden-18-features
Officail Forum: https://forums.ea.com/en/madden-nfl
Madden 18 Wiki: https://en.wikipedia.org/wiki/Madden_NFL_18
Madden Reddit: https://www.reddit.com/r/Madden/