Madden NFL 18 - Check The First Round Of 2018's NFL Draft
MaddenStore
Date: May/09/18 01:51:34
Views: 2506
In Madden NFL 18, five fresh quarterbacks are immediately available for you to flesh out your fantasy roster. Because the first round of 2018's NFL Draft is in the books - with impressive speed EA has already made all 32 players available in Madden 18 Ultimate Team.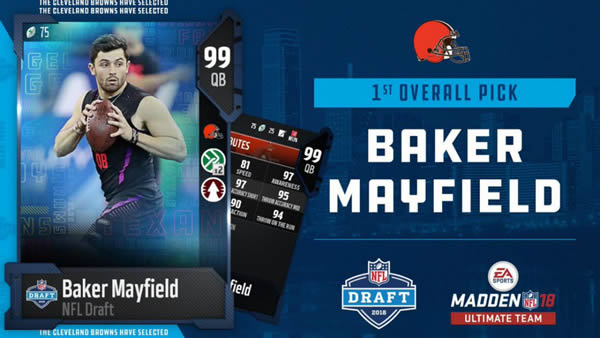 Just in case you slept through the entire thing, they are Baker Mayfield (Cleveland Browns), Sam Darnold (New York Jets), Josh Allen (Buffalo Bills), Josh Rosen (Arizona Cardinals), and Lamar Jackson (Baltimore Ravens).
Mayfield's status as the first overall pick unsurprisingly makes him the best new player available, with an OVR of 99 on his 'Future Star' card.
That may seem like an outrageous rating, but we're already at the end-game stage of Madden 18 with its successor, Madden 19, due in August - so it's inevitable that this draft class feels a touch overpowered. Expect more realistic MUT attributes ahead of next season's campaign.
First-round running back options aren't quite as plentiful as signal callers, but there are still three for you to select from should you have sufficient in-game
Mut 18 coins
: second overall pick Saquon Barkley of the New York Giants, plus Seattle Seahawks' Rashaad Penny and New England Patriots' Sony Michel.