San Francisco 49ers Madden 19 Team Guide: Ratings & Best Players & Review
MaddenStore
Date: Sep/04/18 17:12:23
Views: 3458
Madden NFL 19 have released on August 10th for PC, Xbox One and PlayStation 4, and player ratings for Madden 19 released to the public now by EA Sports. The last we heard the Chiefs were rated 80 as a team. As present, Madden-Store provides cheap madden 19 coins to buy now which can be better help you while rebuilding Madden 19 Ultimate Team! In this Madden 19 Team Guides, we have list all 32 teams and a state of the franchise as to what likely led to each teams specific scoring. In the previous article we introduced Carolina Panthers, this article let's take a look at San Francisco 49ers.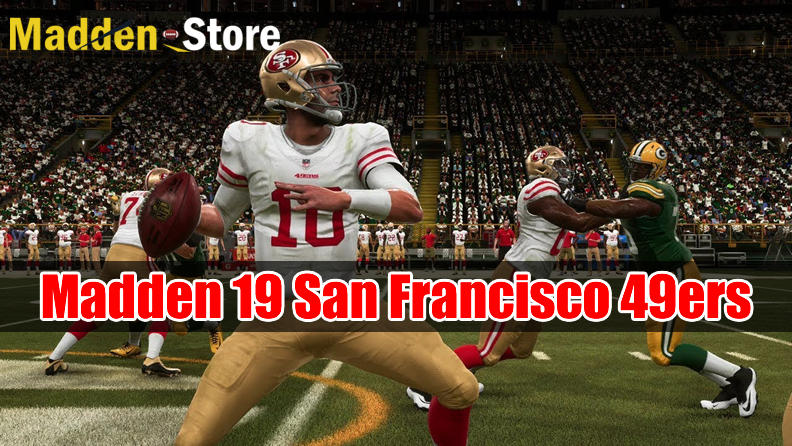 San Francisco 49ers spent 2017 rebuilding the group. Playing young players and shedding veterans because the looked for talent that would fit Kyle Shanahan's program and philosophy. They had been going nowhere inside the standings with first Brian Hoyer and after that CJ Beathard under center, but a mid-season trade for Patriots backup quarterback Jimmy Garoppolo turned points on its head. They started Garoppolo in Week 13 against the Bears and won 15-14, they would then win the rest of their games in convincing style, which includes wins more than the playoff-bound Jaguars and Rams.
San Francisco 49ers fans are more than curious how EA Sports ranked the Niners this season. There were several surprises and head scratchers, although a handful of players ended up seeking pretty excellent. The highest-ranked players are cornerback Richard Sherman and left tackle Joe Staley, who are available in with 90 ratings. They clearly are not basing this off any worries surrounding Sherman's serious Achilles injury from a year ago, instead most likely focusing around the three-time All-Pro accolades he has on his resume. Linebacker Reuben Foster, defensive tackle DeForest Buckner and wide receiver Pierre Gar?on are ranked 87, 86 and 86, respectively, although Robbie Gould comes in with an 85 - tied together with the Atlanta Falcons' Matt Bryant for the No. two general kicker.
Position
Name
Overall Rating
QB
Jimmy Garoppolo
83
HB
Jerick McKinnon
85
FB
Kyle Juszczyk
84
WR1
Pierre Garcon
86
WR2
Marquise Goodwin
83
TE
Gerrett Celek
75
LT
Joe Staley
90
LG
Laken Tomlinson
72
C
Weston Richburg
81
RG
Joshua Garnett
70
RT
Mike McGlinchey
78
Average
80.6
Position
Name
Overall Rating
LE
Arik Armstead
79
RE
Solomon Thomas
78
DT1
DeForest Buckner
86
DT2
Earl Mitchell
73
LOLB
Eli Harold
69
MLB1
Reuben Foster
87
MLB2
Korey Toomer
76
ROLB
Malcolm Smith
76
CB1
Richard Sherman
90
CB2
Ahkello Witherspoon
75
FS
Adrian Colbert
77
SS
Jaquiski Tartt
83
Average
79.1
K
Robbie Gould
85
P
Bradley Pinion
80
Average
82.5
Best Players: Joe Staley (OVR 90), Richard Sherman (OVR 90), Reuben Foster (OVR 90)
Technically, the San Francisco 49ers are still inside the middle of a winning streak. Hype is way up within the Bay Region and rightfully so. Jimmy Garoppolo changed everything for this franchise the final six games from the season and that is only the beginning. None of us understand how the season will finish up, and also the 49ers nevertheless have perform to complete in building a championship roster, however it all has to begin somewhere. Kyle Shanahan is brilliant as an offensive mind and now he gets his quarterback for a full season. The Rams and 49ers have a lot in widespread and Los Angeles is about one year ahead of where San Francisco is now. Hold expectations manageable and just maintain constructing and obtaining much better. There's a ton to become excited about for 49ers fans.