All Of Trophies You Can Get In Madden NFL 18
MaddenStore
Date: Nov/16/17 10:37:52
Views: 2415
Madden NFL 18 confirms to levels of absolute excellence, being a solid product in every respect. In particular, the gameplay has added truly top-of-the-line features with the best passing mechanics ever seen in a game dedicated to American football, and the new gameplay has given further impulse to a product that is still valid. All this adds to the almost total absence of bugs and a fluidity at the highest levels.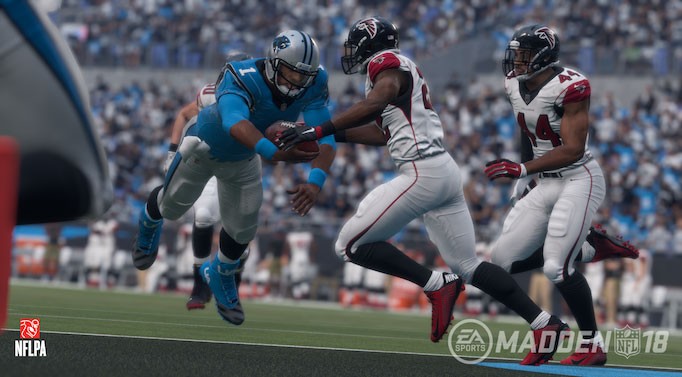 EA Sports met the expectations of Madden NFL fans with the new installment which captures the very essence of the franchise. The new story mode was celebrated by many as game changing and provides players with plenty of hours of unique gameplay. This new game in the series has one of the best single player story modes, but shines the brightest in multiplayer. Players are also likely to appreciate the decision to switch to the Frostbite engine, which enhances the Madden NFL 18 gameplay.
Madden NFL 18 brings up forty-one trophies, one of which is Platinum, three Gold, twelve Silver and twenty-five Bronze. Their typology ranges from all the gaming modes, of course the new Longshot to be completed according to particular parameters to receive their reward. Collecting them will keep you busy a lot, considering also the need to win with each of the thirty-two NFL teams to win one of the Gold Trophies.
Legacy Trophies
• Carson Wentz Legacy Award
• Ezekiel Elliott Legacy Award
• Mike Evans Legacy Award
• Eric Berry Legacy Award
• Matt Ryan Legacy Award
• Marshawn Lynch Legacy Award
• Eli Manning Legacy Award
• Larry Fitzgerald Legacy Award
• John Madden Legacy Award
• Tom Brady Legacy Award
Skills Trainer Trophies
• Pass Academy
• Going for Gold
Gameplay Trophies
• Full Set
Longshot Trophies
• A New Hope
• Complete Act 2
• Complete Act 3
• Carnival Games
• Max Effort
• Trust Your Arm
• Who's the Man
• Prove it on the Field
• You are the Longshot
• High IQ
• Draft Grade
• Spider 3 Y Banana
• Steer Clear
• Redemption
MUT Trophies
• This is my Ultimate Team
• Negotiator
• Grindin' Solos
• Team Building 101
Misc Gameplay Trophies
• 2nd Rounder
• Lockdown Corner
• Move Master
• Not OP
• Reach Out
• Situational Awareness
• Triple Crown
• Comeback City
After getting all of the above, you will also obtain the Platinum reward: Madden NFL 18 Master.
Finally, if you love this exciting sport, it's definitely a recommended purchase.