NFL 17 Tips for Developing Players
If you are new to CFM, what you care most maybe how to develop players in an efficient way, how to get xp, and how to spend. Tips are right here to instruct how to develop players.
Below are some tips which might work for you.
As for how to develop players, focus on your youngest players, especially the ones who have quick or superstar development. To get the most for the few players you want to develop, there's a few things you can do that help on a week to week basis. Set them to focus players, choose training drills that focus on their position group, and get the coach game prep bonus for their position group. This should get you a solid chunk of xp each week, enough to turn a young superstar or quick dev player into a good starter very quickly.
The biggest xp bonuses come from getting awards, MVP, Offensive Player of the Year, best QB, etc. This is something you've got to focus on the whole season, if you're playing offline it can be pretty easy to force feed an offensive guy so he wins the awards. If you have a rookie or someone very young win multiple awards, they can easily get a 50k+ xp bonus, which is huge and can go a long way while their young. As for how to spend the xp that depends largely on the position of the player and your schemes.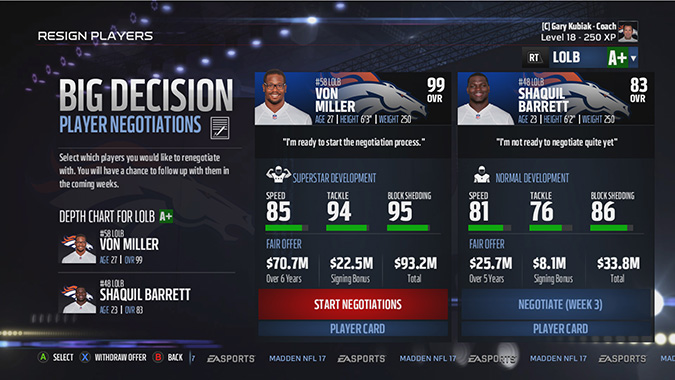 Another tip is the scheme you use to develop players.
1. Injury rating: 92
Toughness rating: 86
Injuries early on in a career can ruin a promising young player (just ask RG3), so you can focus on making my players (mostly) immune to injuries. For QBs and RBs, you could improve Injury to 96 and Toughness to 90 because they get hit much more often than other players.
2. Awareness: 86
Awareness drastically affects how your players perform on the field, except for the one you're user controlling.
3. Play Recognition: 86
It is for defensive players. There's not much point in being a great athlete if you can't recognize plays and actually be at the right place at the right time.
4. Penalty bias: disciplined for all players except QB/K/P
Penalties can kill off a drive, and having a team of disciplined players can give you a tremendous advantage over the season.
Hope these can be helpful for some guys who are new to the mode. Don't forget to do the training. Focus on the training of young players. And the player's OVR doesn't matter. Awareness is a big factor, and you don't need to have awareness when you are user controlling them. By the way, any need for NFL 17 coins can be meet on our website. And also there is a big promotion for Black Friday. You can get 5% discount code. All information you can check on our page.
Related Tags
FeedBack
Keith:

Great seller! I got 2 million coins for soooo cheap!! Check out my team on Madden Mobile! I bought so many good players!

Julian:

Great website and NOT A SCAM! Bought 3M coins and got it within an hour! Definitely recommend

Robert:

SUPER LEGIT & CHEAP. Got my madden mobile coins within 5 minutes of purchase.