Madden 18 Wishlist: What Do You Want for Madden 18?
Before Madden 18 comes out, what do you want for Madden 18? Here we collect the gamers' wishes from the community.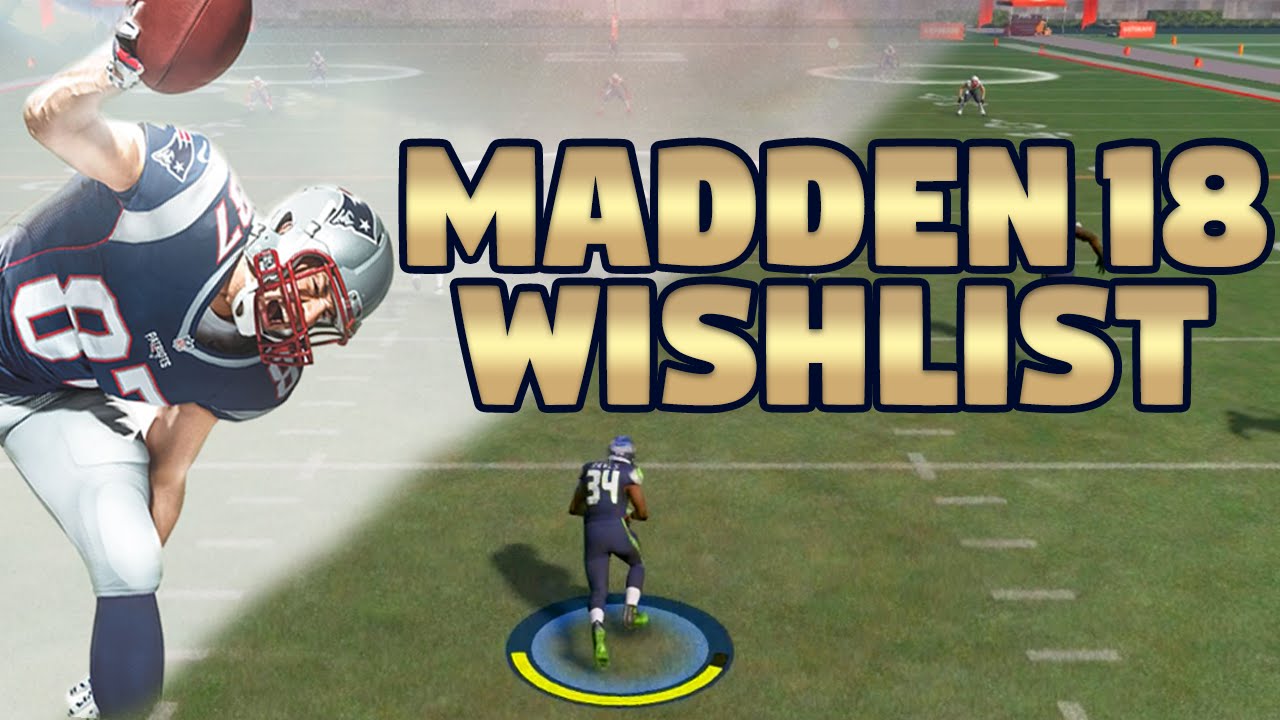 #1 Create An App – An API or third party can be used to create an App or website for the Game. This can primarily be installed in the phone or any such devices and people can manage the CFM team and keep their contact with the game on even when they are away from home. This indeed is a great idea and leagues are definitely going to benefit from that.
#2 Defensive Adjustment – One more idea is regarding the adjustment. This need not to be done in any proper order but the Game can have defensive adjustments for individual players on the opposing team while the game loads as well as shadow a receiver with a CB for the game.
#3 Player Celebration – The player celebrations should be somewhat similar to their actual personalities. The players should be given the chance to set the personality of their Be A Pro where MLB is always in a mode to fight. For example- Jordy and Cobb don't celebrate by dancing, Punter is left dumbstruck after every win, and this is how it will work. The defensive assignments should be brought back to allow CB1 to follow their WR1 around the field.
#4 Hire Scouts – The players can be allowed to be able to hire scouts and set a draft plan. Also, the scouts hired can be used to bring the info on players to fill the draft board. Mindlessly scouting players on the draft board gets tiresome after a while. There is also an option needed which will have the CPU call plays for my Be A Pro and being the captain players can make adjustments at the line.
#5 Be A Pro – The camera for Be A Pro needs to be more dynamic so we can actually track the ball on offense. Not only the camera but the visuals also need to be worked on, whenever a player gets knocked down the animations should be made more realistic and authentic.
#6 Defensive Stats – The defensive stats as compared to quarter length are not that accurate and precise. This should be made a little more exact. For instance- every offensive award should be focused on making that position great for that A 2k style setting for semi-quarter length would be perfect for this TBH or even their setting to increase/decrease stats to account for longer/shorter semi- quarter would be good. Also, the defense should get aware in case a player when online calls the same offensive play more than 3 times this would reduce the ability of Contain DEs to stop runs and bypass OL without being blocked. Or the players can themselves be allowed select from 3 goals before each offensive and defensive drive.
#7 Man To Man – Some other small yet very important wishes are regarding Man-to-Man Assignments that should be brought back into the game. And when a player is checking out draft cards in scouting let it be hit up and down to scroll to the next player.
#8 In the connected franchise mode, there can be separate options for playing online and offline so that individual strengths can be developed
#9 There can be editable rosters and customized draft classes
#10 CPU games as well as playable CPU can be made accessible
#11 There can be introduction of new coaches instead of old coaches getting passed around from one team to another. Right now what is happening is that the same coach (Mike McCarthy) has been passed around three teams instead of all of them getting new coaches.
#12 A lot of Madden players will agree that there is a definite need for statistics tracking that has more depth. Apart from this, there can be a provision for record tracking so that the players can look at what scores they had in the previous seasons and hence make records a bigger deal than what is currently. If someone breaks a record, the others should be made aware of it. This will make the game more competitive and interesting and fast paced.
#13 All the 32 teams should be made more easily controllable.
#14 In terms of presentation, CFM's current presentation can to be upgraded. It needs small changes that will make it more sensible, like making the announcers announce while they are standing and not sitting down. Other changes are like getting score updates from other games that may include very important information for one's own team and hence is important to know, position battle, statistics, key injuries, playoff battles etc.
#15 There can be a game ticker at the bottom of the game screen that gives off information mentioned above like statistics, scores and transactions
#16 There can be a constant change in the announcer as the same old Phil Simms's negative commentary is getting too monotonous.
Related Tags
FeedBack
Keith:

Great seller! I got 2 million coins for soooo cheap!! Check out my team on Madden Mobile! I bought so many good players!

Julian:

Great website and NOT A SCAM! Bought 3M coins and got it within an hour! Definitely recommend

Robert:

SUPER LEGIT & CHEAP. Got my madden mobile coins within 5 minutes of purchase.