Seattle Seahawks Madden 19 Team Guide: Ratings & Best Players & Review
MaddenStore
Date: Aug/31/18 15:28:36
Views: 4496
Madden NFL 19 have released on August 10th for PC, Xbox One and PlayStation 4, and player ratings for Madden 19 released to the public now by EA Sports. The last we heard the Chiefs were rated 80 as a team. As present, Madden-Store provides cheap madden 19 coins to buy now which can be better help you while rebuilding Madden 19 Ultimate Team! In this Madden 19 Team Guides, we have list all 32 teams and a state of the franchise as to what likely led to each teams specific scoring. In the previous article we introduced Kansas City Chiefs, this article let's take a look at Seattle Seahawks.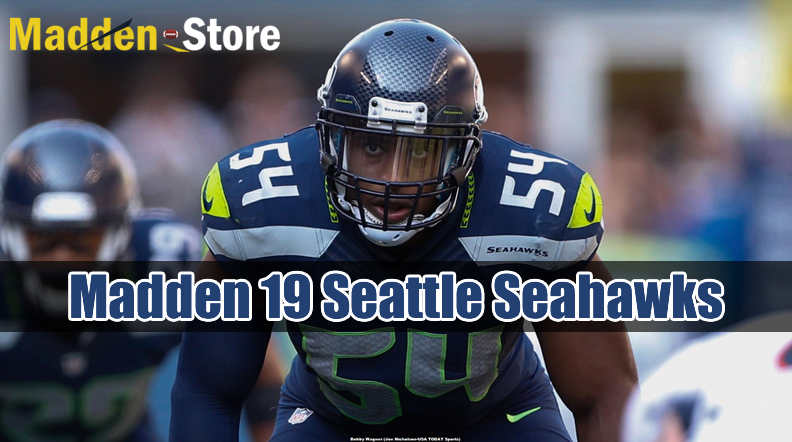 The Seahawks era of domination came to an end in 2017. They failed to make the playoffs for the very first time due to the fact 2011 and since the Legion of Boom and Russell Wilson joined forces. They completed the year using a 9-7 record along with a shocking four losses at the previously impenetrable fortress of CenturyLink Field. Injuries to Kam Chancellor, Richard Sherman, as well as Earl Thomas robbed the secondary of its stars, even though Cliff Avril only played four games. The defense was left to Bobby Wagner and KJ Wright to try and salvage, though a vastly under-staffed offensive line left Russell Wilson operating for his life far too often and put the entire offense on the back foot.
Wagner is one of 5 Seahawks to become 90 general or above in Madden NFL 19, joined by Earl Thomas (95), Russell Wilson (92), Doug Baldwin (90) and Kam Chancellor (90). Though Chancellor is unlikely to ever play once more, he should remain inside the game as he will not officially retire. The highest rated rookie on the Seahawks is punter Michael Dickson, coming in at a healthy 77 - above Jon Ryan's 75 overall. The rest of Seattle's draft class is sprinkled all through the 70s and 60s: Rashaad Penny (76), Shaquem Griffin (72), Will Dissly (71), Rasheem Green (70), Tre Flowers (66), Jacob Martin (65) and Alex McGough (61).
Position
Name
Overall Rating
QB
Russell Wilson
92
HB
Rashaad Penny
76
FB
Tre Madden
70
WR1
Doug Baldwin
90
WR2
Brandon Marshall
81
TE
Ed Dickson
77
LT
Duane Brown
81
LG
Ethan Pocic
69
C
Justin Britt
78
RG
DJ Fluker
72
RT
Germain Ifedi
69
Average
77.7
Position
Name
Overall Rating
LE
Frank Clark
81
RE
Rasheem Green
70
DT1
Jarran Reed
79
DT2
Nazair Jones
75
LOLB
Barkevious Mingo
78
MLB1
Bobby Wagner
97
MLB2
DJ Alexander*
65
ROLB
KJ Wright
83
CB1
Shaquil Griffin
80
CB2
Byron Maxwell
76
FS
Earl Thomas III
95
SS
Kam Chancellor
90
Average
80.8
K
Sebastian Janikowski
81
P
Michael Dickson
77
Average
79
Best Players: Bobby Wagner (OVR 97), Earl Thomas (OVR 94), Russell Wilson (OVR 92)
The Seattle Seahawks are really at a fork inside the road, and it would not be a surprise to view either path taken. Pete Carroll has won at just about every level and Russell Wilson is among the ideal in the game. Those two alone give any NFL team a fighting possibility. However, you can find pieces missing. Richard Sherman is gone, Kam Chancellor is still in recovery mode and Earl Thomas is at the moment holding out in hopes for a new contract. The problem in Seattle has been the NFL Draft. Combine a lack of initial round picks with misses after they did have a selection, what was when the young hot team inside the league starting a dynasty has quickly develop into aged and injured. Absolutely not counting out Seattle by any implies, but there is function to perform as well as the NFC collectively is unrelenting. Then once more, Russell Wilson's magic functions greatest the moment there doesn't appear to be any possibility of success.