Madden NFL 18 Make The Franchise Dominated The Sub-Genre Of Sports Gaming
MaddenStore
Date: Dec/01/17 10:24:57
Views: 1830
Madden NFL 18 - The annual favorite football game made a big splash with its story mode that takes players from high school to the NFL and beyond.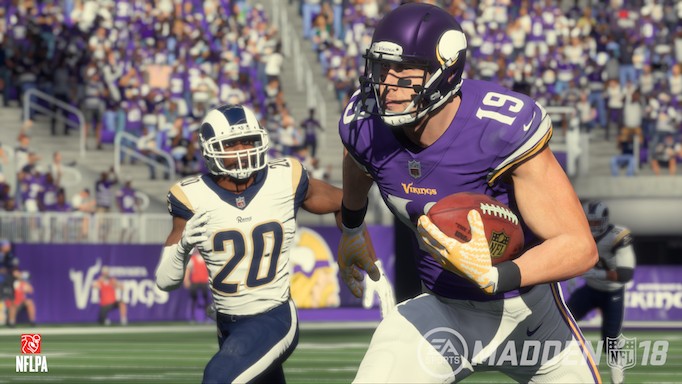 The Madden NFL franchise has dominated the sub-genre of sports gaming since the first game was released in 1988. Always at the forefront of sports gaming innovation, the franchise is now taking a leap forward by including "Longshot" as part of the experience.
The complete NFL team-building mode where you build, play and win with your ultimate team of today's NFL superstars and legends. You can also take the field with your favorite team or play the best weekly matchup using live updates containing the latest rosters, custom commentary and up-to-date stats from NFL.com then continue your season all the way to the Super Bowl from Play Now.
See stunning new stadium exteriors surrounded by vast cityscapes and watch the spectacle of NFL game day come to life with firework displays, player run-outs and stunning weather elements.
For the first time ever, no longer are you tied to throwing at your open wide receiver. Throw to who you want, in the exact spot on the field with all-new Target Passing, giving you, ultimate control over where the ball is thrown. Play the game you want by selecting from three new and unique play-styles catering each matchup to your specifications.
Know your job in pass coverage with an on-screen, real-time UI system informing you of your coverage assignment in pass defense. Customize the AI to fit your game plan and make situational changes to your strategy on the fly as the game demands it.
Madden NFL 18 introduces Longshot, a football redemption story you can play. Former five-star high school quarterback, Devin Wade tries to overcome the loss of his father and take one last shot at his dream of becoming an NFL player.
Lead two friends to victory in online team play experience by selecting roles on the field and merging each players' Ultimate Team line ups of current NFL stars and legends to play cooperatively vs. other players.
Build, play, and win with your ultimate team of today's NFL stars and legends with NFL team-building mode using your favorite NFL players from the past and present.
Play games, collect rewards and upgrade your team with daily, fun and engaging content updates including legendary NFL players exclusively found in MUT. Continuously craft your squad to elite status on the road to building your MUT dynasty.
Play weekly full game matchups or get through a season quickly by playing as just the offense, defense, or key moments from the game. Grab the reins and control your team's operations from signing free agents and making trades, to scouting and drafting players, your decisions build your dynasty.
Join up with other players and battle through the season in a fully connected league experience. Choose to play and manage your Franchise from your smart phone using the Madden Companion App. For one player or multiplayer support for up to four players over LAN or Internet.
Do you want to make cheap Madden 18 coins quicker for your game? If you do, you can visit Madden-Store to have more guides and methods about this.