Madden NFL 19 Announced - PS4 / Xbox One Release Date Revealed
MaddenStore
Date: May/26/18 09:17:18
Views: 2269
EA Sports announced on Friday that the latest entry in the long-running "Madden" franchise will launch on Xbox One and PlayStation 4 on August 10. EA announced Madden 19 and also shared the first details.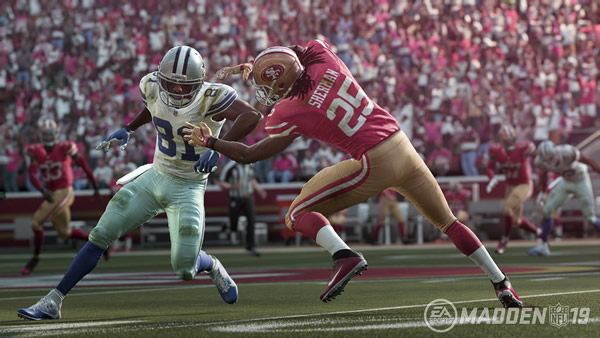 1. The cover star for Madden NFL 19
Wide receiver Terrell Owens is the cover star for Madden NFL 19: Hall of Fame Edition. Costing $80, this premium version offers three-day early access (August 7) to the football game, 12 gold team fantasy packs, an elite legends player - like Owens or Dan Marino - for ultimate team, and more.
2. Real Player Motion Technology
One of the key features of this year's game is something called Real Player Motion Technology, which creates more realistic character movements and animations. It allows players to do things like push blockers to gain more yards and make quick, realistic cuts up-field after the catch.
3. Franchise mode
"Madden" staple Connected Franchise mode is getting an update, too. Now, managers can set a team's scheme and game plan via Player Positional Archetypes and recruit athletes with specific skill sets to fit. A roster and scheme that matches well will earn more XP and award skill points to spend on specific skill sets.
4. Ultimate Team is another area seeing improvements
New training tools will allow you to develop players, while solo challenges will get a more competitive twist with MUT Solo Battles. These feature a leaderboard (with accompanying rewards) that let you compete with other players by taking part in single-player games.
Now, there's no word yet on whether or not "Madden 19" will include a story mode like last year's Longshot, which was nominated for outstanding achievement in video game writing at the 2017 Writers Guild of America Awards.