Madden NFL 18 Patch 1.07 Is Available Now
MaddenStore
Date: Nov/22/17 13:42:24
Views: 2165
Thanks to the power of the Frostbite engine, Madden NFL 18 achieves an impressive visual improvement. See the stunning new stadium exteriors, surrounded by huge skyscrapers and watch the NFL show come to life, in the most photorealistic game ever created. Play with each lineup according to your specifications, selecting one of the three new game styles or summoning the best real-world alignments each week on Play Now Live! The new game forms, combined with your favorite game modes, Madden Ultimate Team, Franchise and Longshot the new story mode, we can say that this is Madden at its best.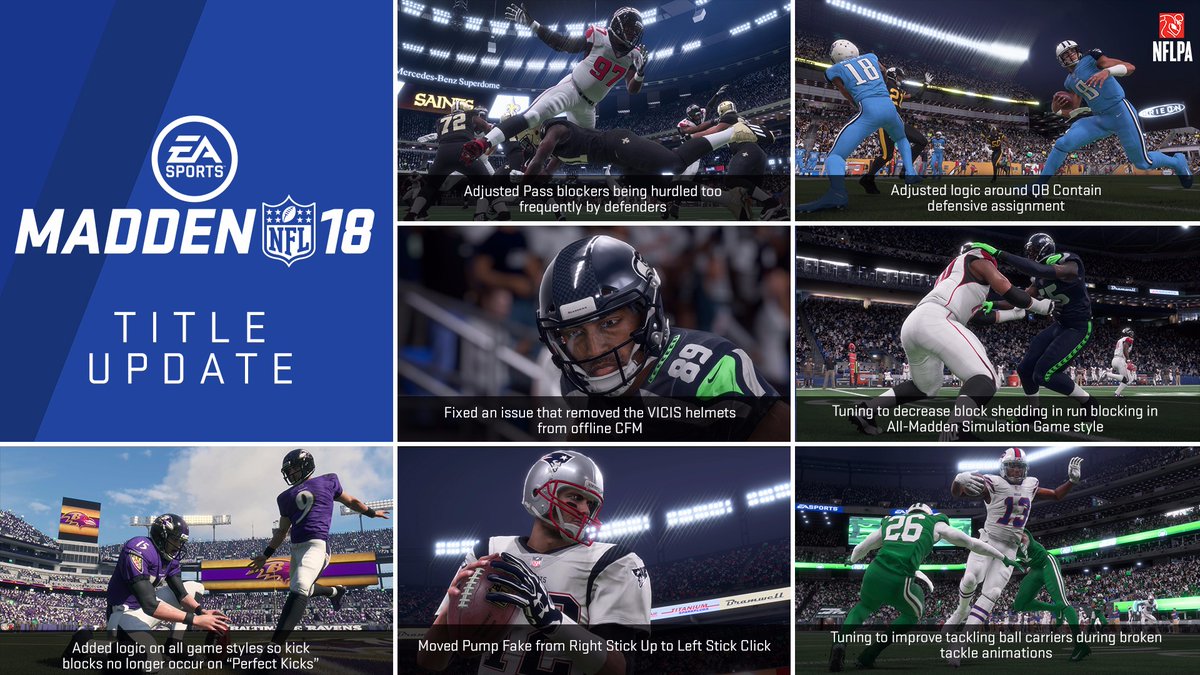 According to the community feedback of new added features and gameplay, Madden NFL 18 makes many changes in the latest title update, like the kick blocks on "Perfect Kicks" will no longer occur.
Gameplay
♦ Added logic on all game styles so kick blocks no longer occur on "Perfect Kicks" – to get a perfect kick, Kick Power must be at 100% and the Accuracy Meter must be stopped within the kicker's accuracy window, and perfect text appears on screen when you get 100% Kick Power and there will be a blue flicker that will trigger on the kicker's player icon after the kick that indicates you met the "Perfect" criteria
♦ Removed Pump Fake functionality from Right Stick so users don't accidently execute a Pump Fake when trying to throw the ball away – users can still Pump Fake while in the pocket by clicking Left Stick
♦ Adjusted some logic around the QB Contain assignment:
• Tuning to QB Contain so that wider slot corners will not become Contain players when rushing
• Added functionality to pass blocking to better handle target switching for QB Contain defenders
♦ Cut block fixes that reduce both cut block attempts and defensive hurdles over blockers in Competitive Game Style
♦ Addressed an animation issue that was resulting in pass blockers being hurdled too frequently by defenders
♦ Addressed an issue where defenders didn't react to scramblers on fake kick plays when in a non-kick block type defense
♦ Addressed some instances where TE's would sometimes freeze at the snap in the Singleback Deuce Close formation
♦ Addressed clock issues with Overtime periods
♦ Addressed an issue where the QB would turn around backwardsto throw when using the Target Passing mechanic
♦ Addressed issues around defensive users intentionally tripping receivers in Competitive Game Style
♦ Addressed issue where offensive linemen would occasionally drop back deeper than the QB on play-action passing plays
♦ Addressed an issue with the Toss animation on the Weak I Flex HB Toss Wk play in the Run 'n Gun playbook
♦ Addressed a rare issue where possession would be given to the incorrect team when kicking an onside kick out of bounds
♦ Addressed a ball spotting issue around blocked punts going out of the back of the end zone
♦ Addressed ball-spotting issues around turnovers that have been challenged or booth-reviewed
♦ Added additional thresholds for QB Accuracy on Competitive Game style so that short, medium, and deep passes each have separate thresholds, with short pass having the lowest threshold to achieve accurate passes
♦ Tuned to improve the play of AI-controlled QB's, specifically around scrambling and recognizing pressure
♦ Tuned to improve tackling ball-carriers during broken tackle animations
♦ Tuned to decrease defensive coverage 'break-on-ball' reactions in All-Madden Simulation Game style
♦ Tuned to decrease block shedding in run blocking in All-Madden Simulation Game Style
♦ Tuned to decrease" nearby player penalty" for defensive players attempting to catch interceptions
Franchise
♦ Made stability fixes
♦ Fixed an issue that removed the VICIS helmets from offline CFM
♦ Fixed multiple issues with depth chart logic with injured players
♦ Improved stability in the Weekly Training drills in Franchise mode
MUT
♦ Set Repeatable Limits – We can now set the amount of times you can complete a set
♦ Set Timers – Timer displays on the Set that will tell you how much longer it will be available
♦ Improved the look and feel of chemistry in the lineup screen and back of items
Others
♦ PS4 issue - Lag during play call on PS4 in Franchise mode may be resolved as soon as possible.
♦ General Stability Fixes
♦ Added Patriots white color rush pants