Madden NFL 18 Delivers An Experience Like Never Before
MaddenStore
Date: Oct/25/17 01:46:47
Views: 1832
The latest NFL franchise Madden NFL 18 delivers an experience like never before. Madden NFL 18 changes category and gets graphics that make it the most beautiful Madden to date thanks to the power of the Frostbite engine. Experience stunning stadiums of beauty in beautiful urban settings and watch NFL games more spectacular and realistic than ever before.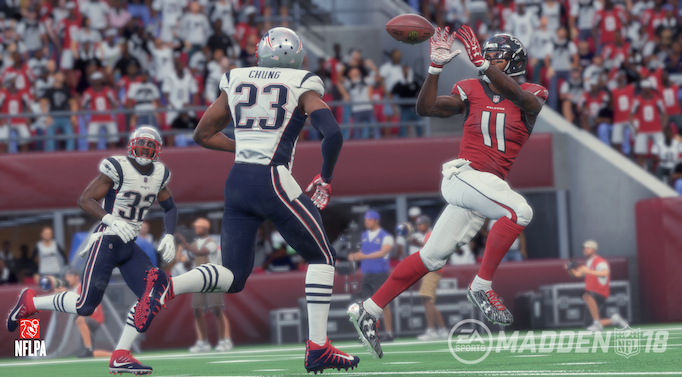 While the intangibles are present in the shift from Madden 17 to Madden 18 such as the updated rosters for the 2017-2018 season, improved ratings for certain players, as well as head coach changes, location changes, stadium changes and other updates. Madden 18 brings brand new and exciting features to the table.
EA have always been up there with the best in terms of making games look good, but the new animations, interactions and cut-scenes within the games look staggeringly good now. More importantly the way that players collide has been improved; big hits now feel big, and draw a sharp intake of breath when they happen as you imagine their ribs straining under the sudden impact of a thundering head-on tackle at full speed. Catching a player's foot or outstretched arm will affect your run, bringing an almost certain epic touchdown to nothing other than a slightly embarrassing stumble out of bounds.
This is Madden like you've never seen it. Powered by the Frostbite engine, Madden NFL 18 Longshot introductions, a football redemption story you can play. Your decisions lead forgotten prospect, Devin Wade on the pursuit to fulfill his NFL dream in the first ever Madden story mode. Team Play and Dominate the Grid with Your Friends in MUT Squads and Play each matchup to your new liking Play Styles: Arcade, Simulation, and Competitive. Play the best real-world NFL matchup every week in Play Now Live! New stadium surrounded by vast cityscapes bring the spectacle of NFL gameday to life in the most photorealistic game to date.
To celebrate the coming of Halloween, Madden-Store offers 6% discount with the promo code "MHALLOWEEN" in selling Madden 18 products. The event concludes on October 30.