Antonio Brown Becomes the Cover Athlete in Madden 19
MaddenStore
Date: Jul/20/18 09:15:32
Views: 2083
Most of the Madden 19 fans may know recently EA Sports officially announced that Antonio Brown as the 'Madden 19' standard edition cover athlete.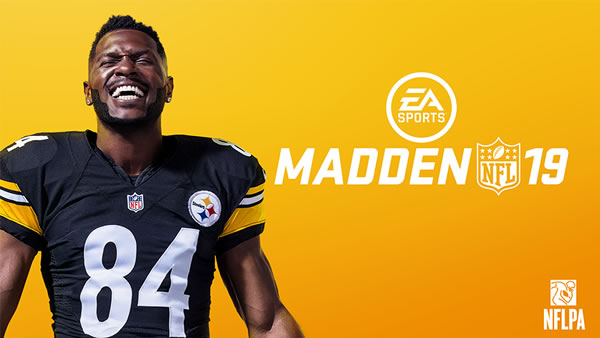 As an All-Pro receiver the past four seasons and runner-up to Todd Gurley as NFL Offensive Player of the Year in 2017, Brown said, "To be on the cover is a real honor I've wanted to always have because I have so much connection with the game, growing up as a kid I played Madden all the time, was being inspired by the players in the game. And now to be on the cover, it's a special feeling."
Brown becomes just the second Steelers player in history to grace the cover of the game. Troy Polamalu shared the cover with Larry Fitzgerald in 2009 for Madden 10. As one of the seven players already awarded a 99 overall rating in the game when it launches on August 10, the cover achievement is something that seems logical for Brown.
In addition, Brown said that the Steelers can be a great team this season and that Le'Veon Bell's potential holdout won't be a detriment. Just like last year, when Bell didn't reach a long-term contract and also played under the franchise tag, Brown figures even if the star running back reports in September, he'll have his usual impact.
"AB has taken the league by storm the past few years and is arguably one of the best wide receivers to ever play in the NFL," said Joshua Rabenovets, Sr. Brand Director at EA Sports. "His game is hot, he's got a ton of personality on and off the field - he was an easy choice for the Madden NFL 19 cover."
Brown has strung together five straight 1,200-yard, 100-reception seasons and at 30 years old, chances are he still has more time to perform at an elite-level-barring injury. Brown shares cover honors this year with Terrell Owens who was chosen as the face of the Hall of Fame Edition. Brown and Owens are the fourth and fifth wide receivers to earn Madden cover honors.