Madden NFL 17 Tips to Beat Passing or Running Gauntlet
If you come across the problems to beat gauntlet, then here are some tips to help you beat passing and running gaunlet.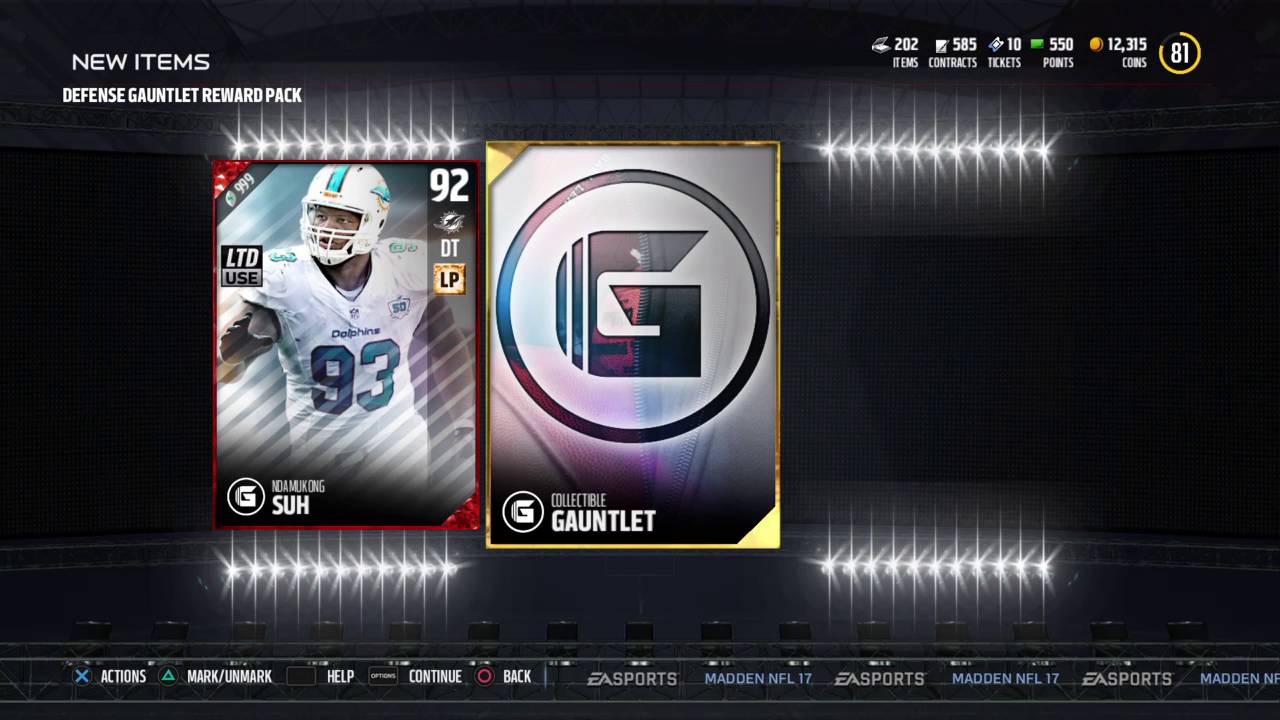 Running Gauntlet (16 games)
Duke Johnson will be your best friend. The second solo is rushing for 10 yards or more on your first run. You can do this with a QB if you let the play develop a bit. Pick yourself up a Duke Johnson for 2k or less, and this set of challenges will be much easier. Toss plays may not work for you. i-Form Pro, outside zone worked amazingly well for you. Give it a shot, it will make things much easier. Wildcat has been suggested around the sub as well but it is suggested not to have a try. In challenges that required scoring "2 rushing TDs" or anything like it, you can simply passed the ball until you reach the 5 or so, then go with outside zone out of i-form Pro to punch it in. The last challenge is scoring a TD every quarter. Some have said that scoring with time expired in the quarter will cause the solo to fail, so until this is fixed and you can just score the TD with a few seconds on the clock in each quarter.
Passing Gauntlet (16 games)
The passing Gauntlet took far less restarts than the running gauntlet, but it was still very time consuming, especially after you try and lob it up every time to get through them quicker because you've been grinding solos for 5 hours.Hankerson was so good even making contested catches.
Cam Newton, MUT Master Odell, and Leonard, Hankerson. Four Verts just ins't what it used to be, but throwing it up to MUT Master Odell will get you the same results it did last year. There are challenges that require "passing for 50 yards or more on your first play".
Whenever you have to "hold your opponent under 150/300yards", simply onside kick it to them. It shortens the field, and the most they can gain is roughly 40 yards before your next possession. Let them score in one play after they recover the ball to make everything quicker.
Going with the Panthers team starter pack is your best bet especially if you don't have RTTP Brady. Cam rarely missed any throws and gave you that scrambling ability that got me through a few running solos.
Hope you can get a little help from above information. Wanna more cheap madden 17 coins? Come to visit our online store to get the discount. The discount code "NFL2017" is valid until Jan, 10th, 2017. In addition, buying madden mobile coins for a certain amount can earn you extra benefits. Have a nice day.
Related Tags
FeedBack
Keith:

Great seller! I got 2 million coins for soooo cheap!! Check out my team on Madden Mobile! I bought so many good players!

Julian:

Great website and NOT A SCAM! Bought 3M coins and got it within an hour! Definitely recommend

Robert:

SUPER LEGIT & CHEAP. Got my madden mobile coins within 5 minutes of purchase.