Madden 18: The Different Roles Players Can Take In MUT Squads
MUT in Madden 18 is pretty much the same from the past games with players completing challenges for in-game currency and experience to open up digital cards to fill out their team with past and current players. Players can then take their teams online to compete in tournaments for even more rewards.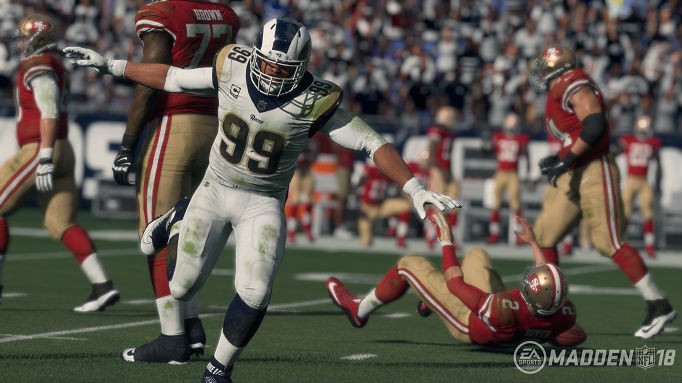 MUT has become very popular in Madden circles and those who enjoyed it in past years will enjoy it in Madden 18. Team up with friends in 3 vs. 3 online team play in Madden Ultimate Team. New to Madden Ultimate Team? Learn more here.
There are three distinct roles: the Offense Captain, the Defense Captain, and the Head Coach. Each of these roles has two main factors - what you contribute to building the team's lineup, and what you do once you get into a game.
The Offense Captain is responsible for contributing all of the players that you would find in your MUT offense, so in your MUT lineup on the offense page, all of your offensive positions, and all of the positions of depth, the Offense Captain brings all of that to the game, as well as their offensive playbook. The Defense Captain brings all the defense players on the whole page, as well their playbook. The Head Coach brings the stadium, the uniform, and the Head Coach card, which will have value in the chemistry that are on those cards.
Once in game, the Offense Captain is in control of the offense, so they start with calling the play, they then perform pre-snap adjustments, and they control the quarterback. They then have two teammates on the field to work with. On the defensive side, the Defense Captain has play calling responsibilities, and pre-play adjustments, and again has two teammates that he can coach into doing what he needs them to do.
Each of these roles has two main factors – what you contribute to building the team's lineup, and what you do once you get into a game.
The Head Coach is a teammate that can be instructed on any given plays that the Captains need him to do. Additionally, in the event of a penalty, he decides the result, and if there is a challenge scenario, he decides that too. There was a reason we did that. We wanted to provide players with an opportunity to bring a friend in without the requirement that they had been investing in MUT the same as you.
If you want to buy excellent players in MUT mode after the release of Madden 18, you can choose buy cheap Madden 18 coins for sale on madden-store.com. You won't want to miss them.
Related Tags
FeedBack
Keith:

Great seller! I got 2 million coins for soooo cheap!! Check out my team on Madden Mobile! I bought so many good players!

Julian:

Great website and NOT A SCAM! Bought 3M coins and got it within an hour! Definitely recommend

Robert:

SUPER LEGIT & CHEAP. Got my madden mobile coins within 5 minutes of purchase.