Madden 18 Available On Xbox One X With New Patch 1.06
EA Sports released a new patch for Madden NFL 18 game. The game is available on Xbox One X and brings many enhancements with the 4K Ultra HD football Xbox gaming experience in the first time. Its Gameplay Runs at a Consistent 60 frames per second (fps) which delivers seamless transitions and improved gameplay performance between each down.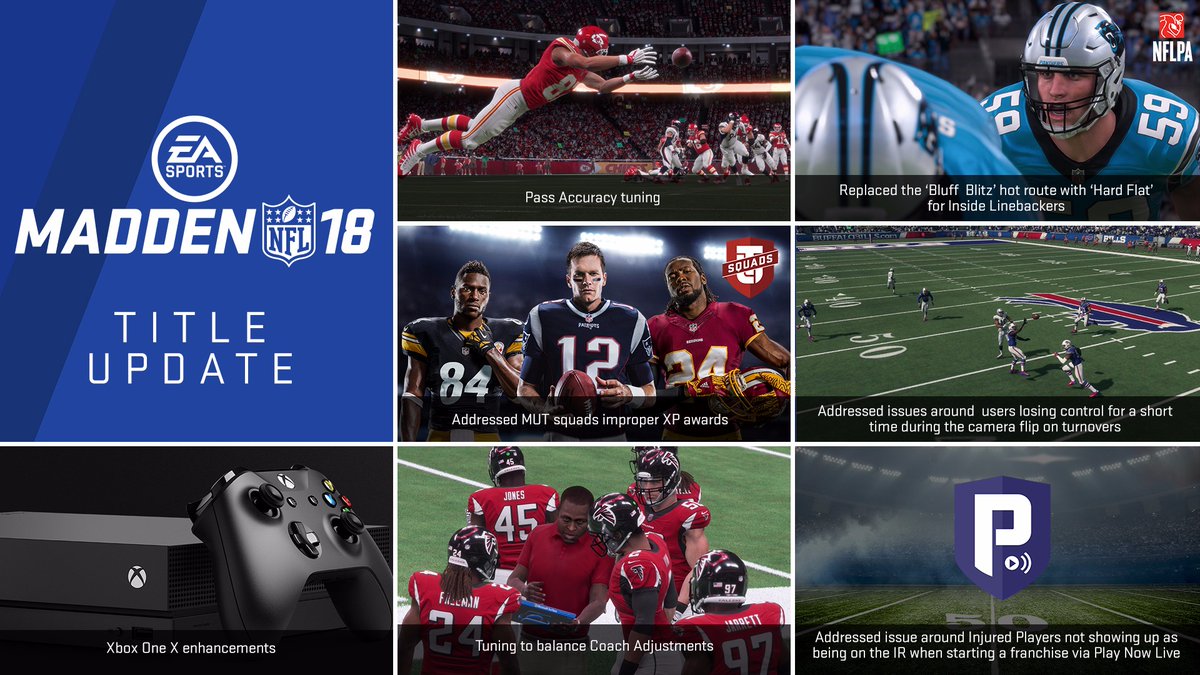 Take a look at the detailed patch notes of the update 1.06:
Franchise
• Updated NFL records for Offline (already available in Cloud)
• Addressed issue displaying certain menus in 4K
• Addressed issue around Injured Players not showing up as being on the IR when starting a franchise via Play Now Live
• Made stability improvements
Gameplay
• Tuned to increase pass accuracy when throwing in a clean pocket with feet set in Competitive Game Style
• Tuned to decrease pass accuracy when throwing across the QB's body at drastic angles and making back-foot throws
• Tuned to decrease defensive penalty for using the Pass Commit adjustment vs. running plays in all Game Styles
• Added logic for Conservative Ball Carrier Coaching Adjustment – now there's a very low chance for defender fakeouts when this adjustment is active
• Tuned to increase frequency of holding penalties when the Aggressive Blocking Coaching Adjustment is active
• Tuned to increase frequency of offsides penalties when the Aggressive Pass Rush Coaching Adjustment is active
• Addressed issues resulting in catches being knocked out by minimal defensive contact
• Addressed issues around users losing control for a short time during the camera flip on turnovers
• Addressed online grieving exploits around spamming the Fake Snap mechanic to stop the clock and defenders intentionally Encroaching to keep the clock running
• Addressed issue resulting in incorrect field position after a touchback occurs on a missed field goal
• Addressed issue where kick return player would get stuck in a strafe assignment after colliding with a teammate
• Tuned to ensure plays populate in the Run/Pass Counter filter of the Play Call menu
• Added Skills Trainer Gauntlet stability improvements
• Added a controller-rumble prompt in MUT Squads to notify user-controlled receivers when the ball is snapped
• Tuned to address inability to move outside linebacker when showing blitz in the Dollar formation
MUT Squads
• Addressed issues around incorrect XP awards
Visual
• Addressed rare issue around Field Goal net enlarging after missing a field goal
Related Tags
FeedBack
Keith:

Great seller! I got 2 million coins for soooo cheap!! Check out my team on Madden Mobile! I bought so many good players!

Julian:

Great website and NOT A SCAM! Bought 3M coins and got it within an hour! Definitely recommend

Robert:

SUPER LEGIT & CHEAP. Got my madden mobile coins within 5 minutes of purchase.