Madden 17 Ultimate Team: Salary Cap Tips
For those who are playing Salary Cap, there are things you need to do and general tips for your playing. At the end of the article, we will let you know how Salary Cap works.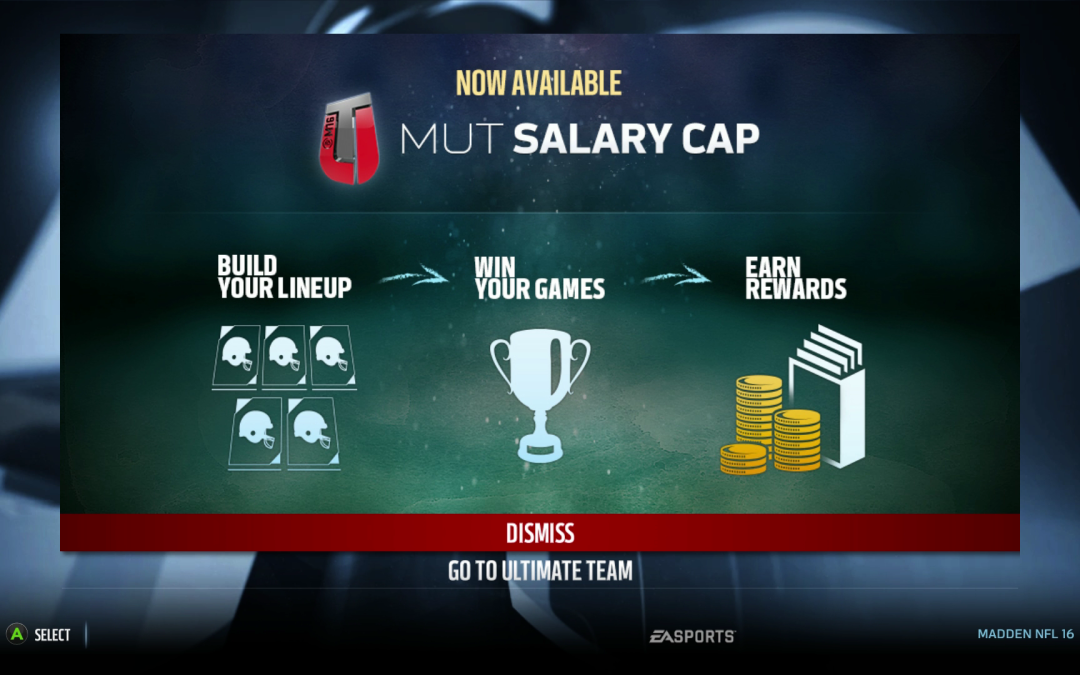 Before you enter, make sure you should do the following things.
On the basis of your scheme, you need to find the lowest cap backups available OR start those guys over your studs to prevent loading up on chems.
Don't load up on multiple chems. Avoid doing that by starting your backups and then subbing your studs in once the game starts.
Don't waste cap on your offensive line or DT's unless you truly use your DT's.
Besides, here are general tips for your playing.
1. Know your scheme
This might be another obvious one, but if you run purely 34 on defense, don't spend any Salary Cap points on a second DT. Fatigue has been turned down quite a bit for the new mode so you don't need to worry about backups as much as in standard MUT. If you don't ever run Quarters or a defense that requires a backup SS, don't spend any more Salary Cap points than are necessary at that position. Refer to the previous tip for finding the best options to fill these slots.
2. Plan your roster before you buy anything
This is probably the most obvious tip, but it's easy to rush into things and end up having to backtrack. You can use our Team Builder to add and remove players and see where your team falls in terms of its total Salary Cap. Feel free to post lineups in this section to get feedback from me and other knowledgable Mutheads. When you're happy, go buy the players you don't already have in your binder. This should save you a few coins or the trouble of reselling players.
3. Know the lowest Salary Cap value options at every position
You're not going to use every position equally. Some of the required positions or even your flex players might never see the field. Don't waste any more Salary Cap on them than you have to. This is where you can turn to our database. Use the Salary Cap filters or click the "Salary" column to sort by it and then the position filters to narrow down the pool. You should remember that the cheapest option at a position might not be that natural position.
4. Matchups are more important
Take a minute to see what kind of roster your opponent is rolling with. Did he stack his secondary leaving his DL vulnerable? If so, don't be afraid to tweak your gameplan to exploit that possible mismatch. Run the rock up the middle and take every yard you can get. Just being mindful of the personnel on the field at any time can create a lot of opportunities for you.
For those who are new to the Salary Cap, below is a video uploaded by DLloydTV to see how Salary Cap works
Ok, do you get the useful information or not? Any ideas can be shared. If you are looking for coins, then you can buy madden 17 coins on madden-store.com, where is a professional one and where you are accessible to more benefits and latest news. Enjoy the game.
Related Tags
FeedBack
Keith:

Great seller! I got 2 million coins for soooo cheap!! Check out my team on Madden Mobile! I bought so many good players!

Julian:

Great website and NOT A SCAM! Bought 3M coins and got it within an hour! Definitely recommend

Robert:

SUPER LEGIT & CHEAP. Got my madden mobile coins within 5 minutes of purchase.