Madden 17 Tutorial to Increase Player XP in Training Sessions
Each week you are given an offensive and defensive game plan to utilize, which gives you in game bonus. Your focussed 3 development players XP is determined by their development level.Normal development gives 180 xp, quick development gives you 360 xp and superstar development is 540 xp. The CPU puts highest rated rookies, if you want to highest development for your players, it is suggested to put the youngest players with higher level development in these spots.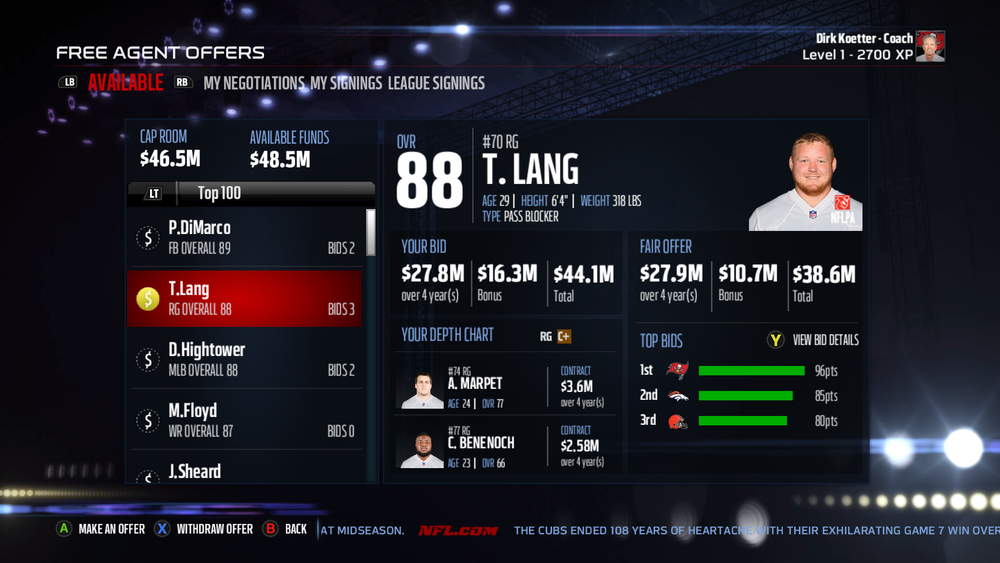 As it has mentioned above that you will obtain in-game bonus and an xp bonus dependant on the outcome of the "mini game" associated with it. The higher medal you earn within the "mini game" the more xp you receive for the corresponding positions. Once you earn a gold medal (top level) in subsequent weeks you can sim that same gameplan and you will receive the maximum gold xp! You only have to beat the mini game once. In addition you can restart all of these gameplan mini games if you do not receive gold; so just play these sessions over and over until you get gold then in future you can just sim and receive the max. Apart from these, you can do the following things to maximize the xp.
1. Upgrading your coach at the various players positions will increase the XP at those corresponding positions earned each week;
2. Player development rating increases the amount of xp earned by players in gameplan session;
3. The higher a player is in depth chart the more they earn in xp for gameplan.
4. If you have a well developed quick or superstar player and a couple young, normal development players (that would benefit more from increase xp), it may be more advantageous to prioritize these players to the top depth chart spots.
Hope you can get useful information from above. Keep an eye on our website madden-store.com, where is a good place to buy madden 17 coins. Especially, we do have promotions and extra benefits sometimes.
Related Tags
FeedBack
Keith:

Great seller! I got 2 million coins for soooo cheap!! Check out my team on Madden Mobile! I bought so many good players!

Julian:

Great website and NOT A SCAM! Bought 3M coins and got it within an hour! Definitely recommend

Robert:

SUPER LEGIT & CHEAP. Got my madden mobile coins within 5 minutes of purchase.