Madden 17 Seahawks Championship Details: Schedule & Ticket
The tournament will feature top EA Sports Madden gamers from around the US such as Rick Cisneros (Crystal City, TX), Kerry Lee (Anaheim, CA.), Damian Altamirano (Molalla, OR), Michael Clark (Spokane, Wa)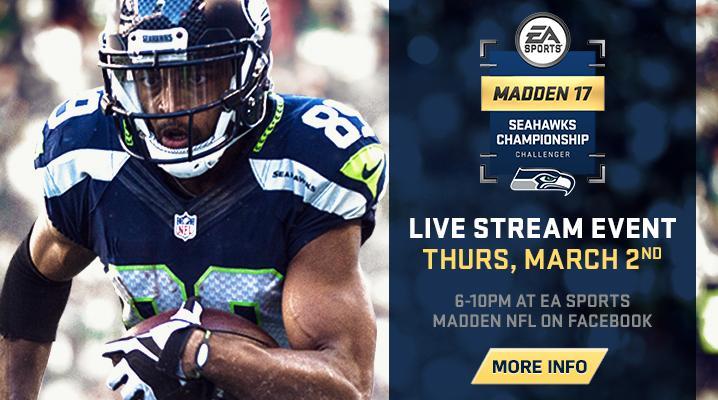 They and others will be competing to win piece of over $15,000 in prizes at Sky Church at the Museum of Pop Culture.
The Ultimate Madden 17 Seahawks Championship winner will advance to the Madden 17 Club Series Championship in early April for a chance to win an additional $50,000 and qualify for the 2017 EA Sports Madden Championship in May.
How to Watch
You can watch the quarterfinals in person with the purchase of a museum ticket (doors will close at 5 p.m.).
The semifinals of the Madden 17 Seahawks Championship will begin at 6 p.m. This is an exclusive portion of the event and will not be open to the public. Don't worry, the semifinals and finals will be live broadcasted for viewers to watch online.
The eight finalists will compete against one another on a 33' x 60' HD LED screen in the Sky Church at the Museum of Pop Culture. Seahawks.com will broadcast all the games, as well as the EA Sports Madden NFL Twitch channel and the Facebook account of the official EA Sports Madden NFL page.
Game Schedule
Below is a full tentative schedule of when games will take place round-by-round:
Quarterfinals: 2 p.m.
Semifinals #1: 6:15 p.m.
Semifinals #2: 7:10 p.m.
Doug Baldwin vs Jordan Babineaux: 8 p.m.
Final matchup: 8:50 p.m.
Related Tags
FeedBack
Keith:

Great seller! I got 2 million coins for soooo cheap!! Check out my team on Madden Mobile! I bought so many good players!

Julian:

Great website and NOT A SCAM! Bought 3M coins and got it within an hour! Definitely recommend

Robert:

SUPER LEGIT & CHEAP. Got my madden mobile coins within 5 minutes of purchase.