Madden 17 Franchise Mode Trading Tips
Maybe you don't want to sell players, but trading can still be a necessary part of the game. So tips are here for you to how to trade in Madden 17 franchise mode.
Before you start the trade, you need to go to the franchise mode page to manage. In the trade center, update your trade block which allows you to dangle a player out to the other teams for trade, and have them come to you with offers.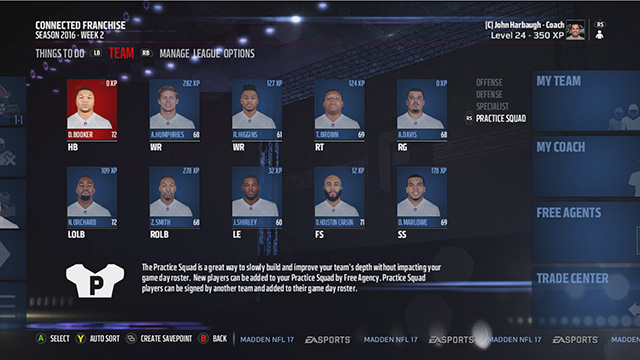 Then let's pass through several tips to trade.
1). Use upgrade position or manual trade in the trade center
Upgrade position functions as sort of a step by step trade tool, which you will need in the trading process. Start by selecting which position you want to upgrade, and from there you can scroll through teams to find players from that position. Then you can decide to trade picks and/or players. By forwarding along with the Option button you can eventually submit the trade, and see if it gets accepted, or if it's declined, get feedback on what the other team is looking for and how close you were to getting them to accept.
2). Deliver on that team's needs
This move will increase your chance of trading. Here let's take an example. If you notice that they have a bad CB, consider trading them one. Draft picks are also a good way to sweeten the pot if you're trying to trade a lower player for a higher rated player, but be careful not to mortgage your future if you're planning on playing through multiple seasons. At the same time it should be self-explanatory. Try to swap players with equal value, keeping in mind positions of need. Use picks if needed to push people over the edge. If you don't want to give up any players, first and second round picks usually carry very high value and could get you a pretty highly rated player.
3). Manual trade
Start right at the trade screen and have the ability to quickly scroll through all teams and positions and craft the trade from scratch.
These tips might be effective to some new players. But you might as well take a look. If you get any other ideas, share with us please. Cheap Madden 17 coins are available here. If you get any questions, you can ask for customer service. Enjoy the game.
Related Tags
FeedBack
Keith:

Great seller! I got 2 million coins for soooo cheap!! Check out my team on Madden Mobile! I bought so many good players!

Julian:

Great website and NOT A SCAM! Bought 3M coins and got it within an hour! Definitely recommend

Robert:

SUPER LEGIT & CHEAP. Got my madden mobile coins within 5 minutes of purchase.