MUT 17: Brett Favre Has Returned
EA released the news that Brett Favre is going back in Madden Ultimate Team. Players are able to find various version of Brett Favre and solo challenges that highlight his brilliant career.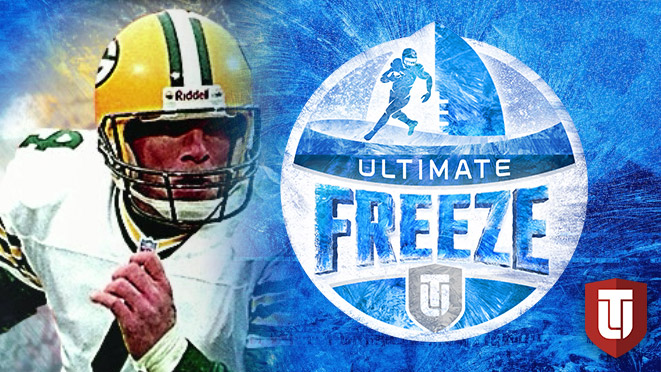 "The three-time NFL MVP was known for his quick release, throwing motion, and velocity. Gunslinger Ability Chemistry embodies Favre perfectly and makes a serious impact on the field. (Limited Edition and Master Only)."
"Along with Gunslinger, "4" Chemistry activates when you team Brett up with a few of his favorite targets, including Sterling Sharp and Antonio Freeman. Both players are now available in Madden Ultimate Team. "
Once you've logged in, you will automatically earn an 86 rated Brett Favre, then you are accessible to the Favre Frozen Solo Challenges. Complete this challenge, you can get an an 89 OVR Brett, next grab some of his best buddies to unlock sequence number two.
"Use Frozen Moments in the Antonio Freeman and Sterling Sharpe Sets to earn an Elite Version of each player and further your push down Favre's Frozen Path and "4" Chemistry activation. Both sets, as well as the 89 OVR Favre, are required to unlock sequence two."
Complete the second Favre Solo Challenge to get a 92 rated version of the Gunslinger. In order to finish the sequence, you need to combine this version with both the "4" and Offensive Ultimate Freeze Chemistries. Especially, the two 96 OVR version of Favre can earn you Gunslinger Ability Chemistry. One version is available in packs for a limited time with Deep Threat chemistry. The other version is a Master Set Reward, which can be earned by gathering players, collectibles and completing solo challenges.
More information you can check on EA's official site. As we mentioned before that here is a promotion, which will bring you 6% discount. The coupon code is "NFL2017". At the same time, buying madden coins for Android and IOS devices for 2,000K-50,000K will give you additional benefits. Choose us to get cheap madden 17 coins.
Related Tags
FeedBack
Keith:

Great seller! I got 2 million coins for soooo cheap!! Check out my team on Madden Mobile! I bought so many good players!

Julian:

Great website and NOT A SCAM! Bought 3M coins and got it within an hour! Definitely recommend

Robert:

SUPER LEGIT & CHEAP. Got my madden mobile coins within 5 minutes of purchase.