7 Things To Know About Madden NFL 18
MaddenStore
Date: Mar/19/18 13:14:03
Views: 2455
This year, Madden hopes to revolutionize American football. Alone on the scene in the field of video game simulation, the title of Electronic Arts leaves for 2018 which announces many new features.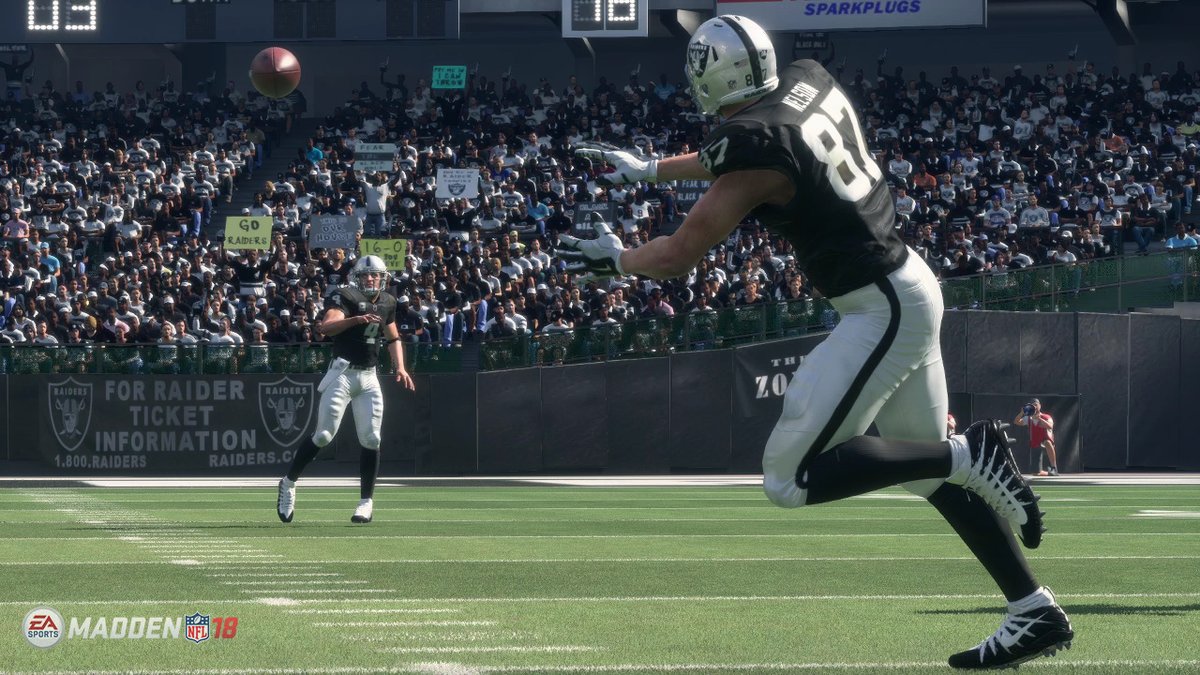 In addition to technical improvements, it is especially the presence of a mode already proven on FIFA that makes its appearance. We summarize everything we know about Madden NFL 18.
Longshot: Madden's story mode
Like The Journey in FIFA 17 (and FIFA 18), Madden NFL is the second game in the EA Sports range to enjoy a story mode. It's not a simple career mode in which you should play different competitions, no, here you have to make choices that will affect your player history and future achievements, while discovering a story with cinematics.
Mahershala Ali plays the role of Cutter Awde coach who will lead our character to the Super Bowl. He plays Devin Wade (whose face is that of JR Lemon), a former quaterback who returns after three years out of the competition, and who will participate in an event called NFL Darft Day. And like FIFA, Story mode is powered by the Frosbite Engine.
Solo Activities
The story mode is not just a scenario because there will be new activities, from football to 7v7, through sequences related to flashbacks that we will relive. You will also manage some of your teammates to better train them to the right positions in the field.
Davin's abilities will not be customizable, but will evolve over the course of the scenario.
You must finish the solo
Maybe you're not interested in Longshot, but you're bound to be motivated to finish the Madden NFL 18 Story mode. When you reach the end of Davin Wade's story, you'll unlock rewards for the Madden Ultimate Team mode.
MUT Squads arrive
Linked to Madden Ultimate Team, the MUT Squads are thus teams of three players against three, which allow to play in three different ways: offensive, defensive or team head. Create the MUT team of your dreams and try to climb the ladder of global rankings.
Connected to NFL.com
Electronic Arts is furthering its partnership with the NFL by offering NFL.com-related tips, which also allows players to update their stats based on their stats, and to be sure they have the team. you need to win the Super Bowl.
Shooting now more accessible
Probably one of the big flaws of Madden NFL through the years, his passing management. With NFL 18, developers promise a more accessible rendering. Now you can choose to send the ball to where you want, and to whom you want. The goal is to give more control to the players.
A complete application
"Create Dynasty," that's how Electronic Arts sees the app that will be connected to Madden NFL 18. So we'll be able to manage his team, as well as the current season in Madden Ultimate Team. Players will be able to create their history directly from their mobile, and create key moments of your best memories and prowess.
Madden NFL 18 is now available on Xbox One and PS4.