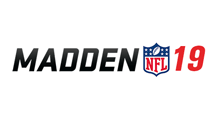 Madden NFL 19
Madden NFL 19 is an upcoming American football sports video game based on the National Football League (NFL) and published by EA Sports. Pro Football Hall of Fame wide receiver Terrell Owens is the cover athlete for the "Hall of Fame" version of the game, featured in his Dallas Cowboys uniform. An installment in the long-running Madden NFL series, the game will be released for Microsoft Windows, PlayStation 4, and Xbox One on August 10, 2018.
Madden 19 Rating from Gamespot

Madden 19 Rating from IGN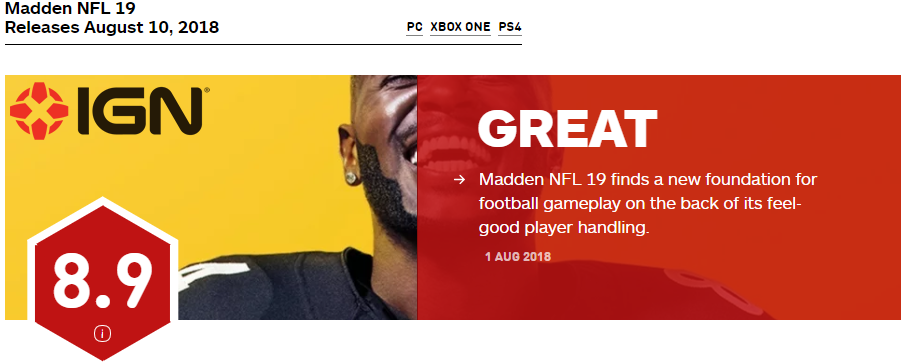 Madden 19 Rating from Metacritic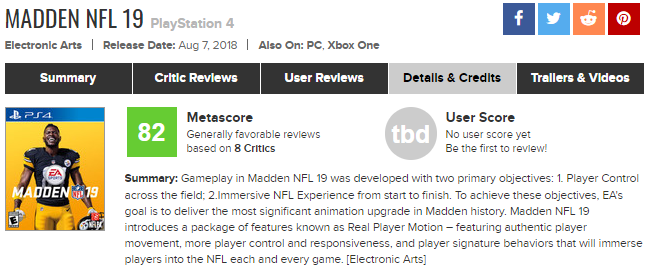 ENHANCED CONTROL - Player experience is at the forefront of Madden NFL 19. Advances have been made to give players even more control and responsiveness, while bringing in fresh gameplay concepts to push Madden to unbelievable heights.
REAL PLAYER MOTION - At the base of these advances is Real Player Motion, designed to deliver hyper-realistic animations with a higher level of gameplay. The elevated animations bring incredible elements to the ball carrier control.
THE ULTIMATE CHALLENGE - Madden Ultimate team is back with more content and challenges to push your fantasy roster to Hall-of-Fame status. Not only will this season offer expanded legend content, it'll add a new progression system and game modes to MUT.
NEXT LEVEL VISUALS – Last season broke visual ground with the inclusion of the Frostbite Engine. Madden NFL 19 will flex more of the Frostbite muscle, providing broadcast-quality graphics for a level of immersion for the ultimate gridiron gaming experience.
LONGSHOT HOMECOMING – More gameplay & more NFL action, Play as Devin and Colt and continue your Longshot story in Franchise or MUT.
Official Site: https://www.easports.com/madden-nfl
Officail Forum: https://forums.ea.com/en/madden-nfl
Madden 19 Wiki: https://en.wikipedia.org/wiki/Madden_NFL_19
Madden 19 Reddit: https://www.reddit.com/r/Madden/